 Separation & Divorce Coach
Offering you support during the most difficult time in your life. I will help you make sound decisions for your future, and create a new chapter in your life.
Going through a breakup can be exceedingly difficult. There are a lot of decisions to make and changes that are going to take place. You will be dealing with emotional heartbreak, anger, insecurities, confusion, fear, and possible self-sabotage.
Regaining self-confidence and becoming empowered is important to ensure you are ready for the road ahead.
You will need a clear vision when making decisions for your future and the interest of your children. Also, the strength and guidance to break through barriers that could hold you back from moving forward.
Having a Coach on your side throughout the whole process will help you deal with your personal issues in a calm and clear manner. We will work together in a private virtual setting discussing effective methods of communication; help you make sound decisions, build a foundation for your future and put things into perspective by setting boundaries.
I will help you build your confidence, strength and empower you to set and achieve your goals.
Reaching out for help is a strength not a weakness.
   You're in the right place …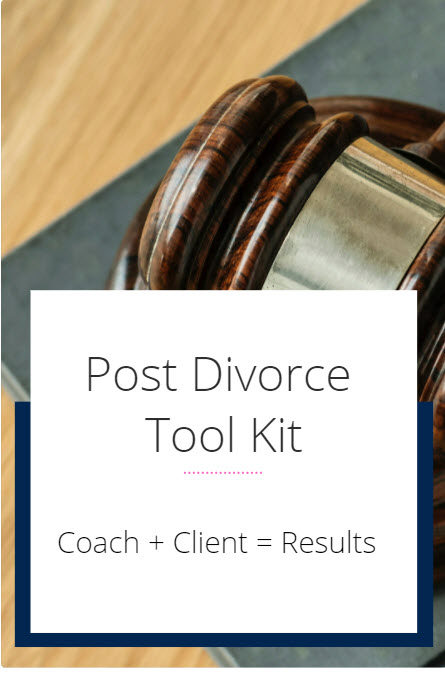 The Post-Divorce Toolkit Booklet – is FREE but if you join my "Life After Divorce Online Program" you will receive a Live workshop to discuss the details of what to expect during the process of a separation and divorce.
The first thing people do is reach out to a lawyer. I recommend you get your thoughts and what process you want to take before you reach out to a lawyer. Being prepared and gathering as much information as possible before you talk to a lawyer will help you prepare for the road ahead. This workshop will help you prepare your information prior to reaching out to a lawyer. It will also help cut the cost of a divorce.
When I was going through my divorce there was a lot of things I needed to learn regarding the process. I don't want you to make the mistakes that I did. The "Post Divorce Toolkit Workshop" offers a lot of information and steps that you would not think of during this trying time. In addition, it will help you stay focused in making these decisions. This is your future you are dealing with your decisions will effect the rest of your life. Be sure to be prepared.
Everyone's situation is different and talking to other people will help you understand the difficulties that you will be facing and how they got through it. I also have members of my group that will be guest speakers to explain their process and experiences. Being a part of a group helps you in so many ways. Join my program and get the support you need to help you make the right decisions.
If you are not properly prepared, your decision will affect the rest of your life.
Email me for a FREE "Post Divorce Toolkit Workbook"